PRIVACY POLICY – World Around Me app & World Around Me website & WT InfoTech website.
WT Infotech
WT Infotech provides this Privacy Policy to help you make an informed decision about whether to use or continue using the worlaroundmeapp.com / wtinfotech.co.uk website ("Site") and the World Around Me app ("Application"). If you do not agree to our practices, please do not use the World Around Me Site, and World Around Me App.
This Privacy Policy is incorporated into and is subject to the World Around Me App Terms of Service. Your use of the World Around Me App Site, World Around Me App Software and the World Around Me App Service and any personal information you provide on the Site or Application Service remains subject to the terms of this Privacy Policy and our Terms of Service.
Data Controller and Owner
Company that decides how and why the data will be processed.
WT Infotech, The Gordon Manley Building, Lancaster Environment Centre, Lancaster University UK, LA1 4YQ
privacy@worldaroundmeapp.com.
This privacy policy governs your use of the mobile software application "World Around Me", ("Application") which was created by WT Infotech, for mobile devices running iOS and Android operating systems. Application is a local discovery app that helps you find places of interest near you.
What information does the Application obtain and how is it used?
Data protection and respect of customer and user privacy is a core value for us. This privacy policy serves to inform our customers, as well as end users of applications including, or communicating with, WT Infotech, in compliance with the General Data Protection Regulation (GDPR) about
which data we collect,
why we collect it,
and what we do with it.
Wherever we refer to consent as a justification for data processing, this presupposes that you have effectively given us such consent; if you have not provided us with the respective consent we will not process your personal data for purposes that require your consent.
Below you will find detailed information about
who we are and how you can contact us;

to which products and services this privacy policy refers;

which categories of personal data we process, the sources from which we obtain personal data, the purposes for which we process personal data and on which legal basis we conduct such processing;

to whom we transfer personal data;

for how long we store personal data; and

your data subject rights in relation to the personal data we process.
Contact
Who we are and how to contact us
Responsible for this privacy policy and for any processing of personal data in relation to our products and services is
WT InfoTech Ltd.
The Gordon Manley Building,
Lancaster Environment Centre,
Lancaster, Lancashire, UK
LA1 4YQ
www.wtinfotech.co.uk
You can contact us on E-Mail: privacy@worldaroundmeapp.com
Scope of Application
The products and services to which this privacy policy applies
2.1 World Around Me App
2.2 website www.worldaroundmeapp.com
Data categories and purpose
Which data categories we process for which purpose
3.1 Data we do NOT process
3.1.1 Sensitive ("special") data categories
We do not process sensitive ("special") data categories of our customers and service users. Sensitive ("special") data categories not processed by us include data that reveal racial and ethnic origin, political opinions, religious or philosophical beliefs, as well as genetic data, biometric data to uniquely identify a natural person, health information or data to the sexual life or the sexual orientation of a natural person. If If users provide unsolicited information containing sensitive ("special") data categories to us (e.g. by entering an email revealing sensitive data such as a function within a church or a trade union in a registration form), such data will only be processed as part of the fulfillment of the contract (or the contract initiation), as requested and entered by you.
3.1.2 App usage data
We only collect non-personal app usage data. We do not process any information about individual users' usage of our services except where, and to the extent that, it is technically necessary for the performance of such services. We collect information about taps on app screens and views on the screens to better understand how well our offering is serving our users globally. We use events data to improve our service.
3.1.3 Data Controller
The Data Controller processes the Data of Users in a proper manner and shall take appropriate security measures to prevent unauthorized access, disclosure, modification, or unauthorized destruction of the Data.
3.2 The categories of personal data we process, the respective purpose(s) and legal basis and the sources from which we obtain personal data
What information does the Application obtain and how is it used?
A summary of Personal Data used within WAM app is mentioned in "Table 1" below.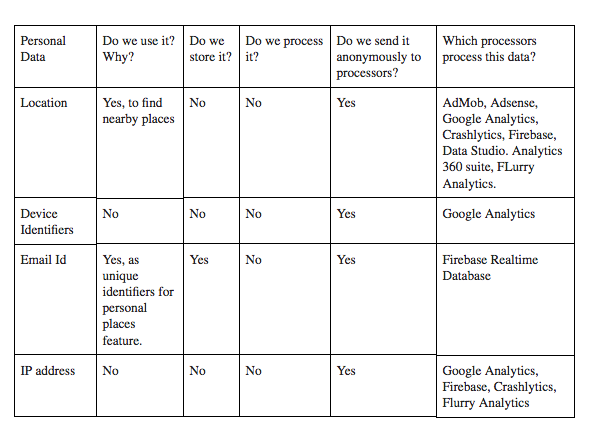 "Table 1"
User Provided Information –
The "Personal Places" feature in the Android app requires user authentication through email id, google plus login or facebook login with the help of Firebase Authentication service. User information encrypted and transferred over HTTP. It is then further encrypted and stored on Firebase Realtime database. Firebase Privacy Policy explains personal data helps them provide the service as a data processor. This is further explained in "Table 2" below.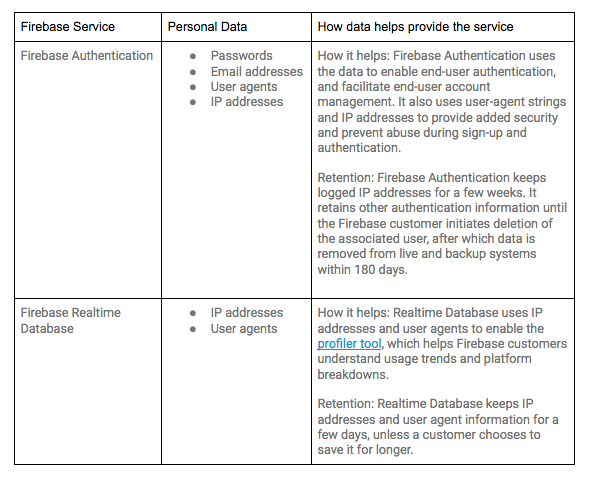 "Table 2"
Firebase services encrypt data in transit using HTTPS and logically isolate customer data.
To keep personal data safe, we adopt extensive security measures to minimize access:
To select employees who have a business purpose to access personal data.

System logs employee access to systems that contain personal data.

System only permits access to personal data by employees who sign in with Google Sign-In and

2-factor authentication

.
This app is aimed at people over 13. This app collects information from you so that we can give you the service you wanted and Improve the app over time
Automatically Collected Information
In addition, the Application may collect certain information automatically based on your consent, including, but not limited to, the type of mobile device you use, your mobile operating system, and information about the way the Application is used by a set of users.  
Location is sent to Data processors as mentioned in Table 1 above.
World Around Me includes measuring tools. We want to learn how users use the app so we can improve it in future updates. The data is anonymised and aggregated and is used to measure app usage and other functions.
For example, Analysis of screen visits for reasons of product improvement and for statistical analysis of the use of our services we may collect statistical information about screen visits by use of cookies and/or by counting of logins.
Your consent, Art. 6 no. 1 a GDPR.
Whenever you use our services, we automatically collect and store this information.
Does the Application collect precise real time location information of the device?
When you visit the mobile application, we use GPS technology (or other similar technology) – only with your granted permission, to determine your current location in order to determine the place you are located within in order to serve you with relevant search results. For example, if you are looking for Restaurant in paris then we will furnish name and location of Restaurants near you in paris.
Location accuracy is 10 metres. We do not store the location coordinates anywhere.
Do we serve personalised advertisements?
Personalised advertisements are ones which target users based on their online viewing behaviour of websites and apps. Non personalised advertisements are ones which are targeted to users based on their location and many times they are served without knowing about users location. We serve only non-personalised ads in our Application.
Do third parties see and/or have access to information obtained by the Application
We may disclose User Provided and Automatically Collected Information:
as required by law, such as to comply with a subpoena, or similar legal process;
when we believe in good faith that disclosure is necessary to protect our rights, protect your safety or the safety of others, investigate fraud, or respond to a government request;
with our trusted services providers who work on our behalf, do not have an independent use of the information we disclose to them, and have agreed to adhere to the rules set forth in this privacy statement.
if WT Infotech is involved in a merger, acquisition, or sale of all or a portion of its assets, you will be notified via a prominent notice on our Web site of any change in ownership or uses of this information, as well as any choices you may have regarding this information.
Data recipients
Information about when we share personal data with others
We will not share your personal data with any third party companies, organizations or individuals for their own purposes as an independent company unless we do have your active (meaning: opt-in) consent. In addition, we will share your personal data only if one of the subsequent circumstances applies.
4.2 Transmission to external processors
This app includes advertisements.
You can find out more about how they use your personal information here:
We only transfer personal data to external processors if we have concluded a data processing agreement with them that meets the legal requirements under art. 28 GDPR. This means WT Infotech may transfer or disclose personal data to a third party that agrees to process personal data strictly limited to our respective instructions and to provide appropriate technical and organizational data security measures. We  will only transfer personal data to processors outside the European Union if an appropriate level of data protection is guaranteed. The processors we cooperate with include:
Flurry

 & their 

Data Subject Rights
Google Analytics
We only process non-personal (anonymized) data on a regular basis for analytics purposes to Google Analytics. Google Analytics is a service by Google LLC, Amphitheatre Parkway, Mountain View, CA 94043, USA.
Social Networking
World Around Me is not a social network itself, but it uses social network logins for authentication.
World Around Me connects above networks so you can Sign-in to the personal places feature in the app.
REGISTRATION AND AUTHENTICATION
By registering or authenticating, Users allow this Application to identify them and give them access to dedicated services. Depending on what is described below, third parties may provide registration and authentication services. In this case, this Application will be able to access some Data, stored by these third party services, for registration or identification purposes.
DIRECT REGISTRATION (THIS APPLICATION)
The User registers by filling out the registration form and providing the Personal Data directly to this Application. Personal Data collected: Email.
Mode and place of processing the Data
Methods of processing
The Data Controller processes the Data of Users in a proper manner and shall take appropriate security measures to prevent unauthorized access, disclosure, modification, or unauthorized destruction of the Data.
The Data processing is carried out using computers and/or IT enabled tools, following organizational procedures and modes strictly related to the purposes indicated. In addition to the Data Controller, in some cases, the Data may be accessible to certain types of persons in charge, involved with the operation of the site (administration, sales, marketing, legal, system administration) or external parties (such as third party technical service providers, mail carriers, hosting providers, IT companies, communications agencies) appointed, if necessary, as Data Processors by the Owner. The updated list of these parties may be requested from the Data Controller at any time.
Storage period
How long we store collected data
5.1 General storage period
Our storage of personal data is always limited to the period necessary to achieve the purpose of the storage. Where a storage period prescribed by European regulations and directives and/or any other relevant legislation has expired, the personal data will be routinely blocked or deleted in accordance with the statutory provisions.
If you have purchased mobile app WAM Pro from WT Infotech, your data will be stored for as long as their use is required for the execution of the contract (e.g. contract handling) and, moreover, for the fulfilment of legal obligations (retention or accounting obligation). Your data will be deleted as soon as they are no longer needed to fulfil the contract and, moreover, all legal obligations for storage have expired.
Retention time
The Data is kept for the time necessary to provide the service requested by the User, or stated by the purposes outlined in this document, and the User can always request that the Data Controller suspend or remove the data. The Data Controller will retain User provided personal data for as long as you use the Application and 50 months thereafter. The following precautions to make sure it cannot be accessed or altered – Data is encrypted in transit using internal security protocols.
If you'd like us to delete User Provided Data that you have provided via the Application, please contact us at privacy@worldaroundmeapp.com and we will respond in a reasonable time. Please note that some or all of the User Provided Data (refer to Table 1)  may be required in order for the Application to function properly. World Around Me Application does not allow you to access, amend and delete your data from the Application. But if you need to remove your email ids from ours systems them please write to us at privacy@worldaroundmeapp.com
System Logs and Maintenance
For operation and maintenance purposes, this Application and any third party services may collect files that record interaction with this Application (System Logs) or use for this purpose other Personal Data (such as IP Address).
Children
We do not use the Application to knowingly solicit data from or market to children under the age of 13. If a parent or guardian becomes aware that his or her child has provided us with information without their consent, he or she should contact us at privacy@worldaroundmeapp.com. We will delete such information from our files within 4 weeks.
5.2 Personal data of users of WAM Lite
Your personal data about the "Personal Places" feature in WAM will be stored at least for as long as necessary for you to access WAM.
If at any time you'd like us to remove all your personal data on WAM then please send us an email and we shall respond to you within 1 week with the report of data removal.
5.3 Security
We are concerned about safeguarding the confidentiality of your information. We provide physical, electronic, and procedural safeguards to protect information we process and maintain. For example, we limit access to this information to authorised employees and contractors who need to know that information in order to operate, develop or improve our Application. Please be aware that we endeavour to provide reasonably high level security for information we process and maintain.
Rights of the Data Subject
Your rights under the applicable data protection law
WT Infotech is a company located in UK. Under the GDPR and ancillary data protection law, as a person affected by data processing you have the following rights:
Right of access: Upon request, we will inform you about the scope, the origin and the recipients of your personal data processed by us as well as of the purpose(s) of such processing. In case of excessive Requests for Access (more often than 4 times a year), we reserve the right to charge an expense reimbursement.

Right to rectification: Should any personal data related to you as processed by us be incorrect or incomplete despite our efforts to ensure that the data is accurate and up to date, we will correct it at your request.

Erasure: Under certain circumstances, you have a right to erasure, for example, in connection with a contradiction or when data was collected illegally. If the legal prerequisites for an erasure are present (meaning that there are no legal obligations or predominant interests against the request), we will carry out the requested erasure immediately.

Restriction: You may also request a restriction of the data processing for the same reasons that justify an erasure. In that case, the stored data must remain stored (ie for evidence purposes) but may no longer be used otherwise by us.

Right to object and withdrawal of consent: You are entitled to object against any data processing conducted by us based on a legitimate interest. Upon objection we will cease to process the respective personal data except for exceptional cases where we have compelling legitimate grounds for the processing which override your interests; as regards data processing for direct advertising purposes, this right of objection has an absolute nature, we will thus never invoke compelling legitimate grounds overriding your legitimate interests if you object to use of your data for advertising purposes; Any consent you have given to processing of your personal data can be revoked at any time in writing and free of charge (for contact see sec. 1 above).
What are my opt-out rights? You can stop all collection of information by the Application easily by uninstalling the Application WAM app from your mobile. You may use the standard uninstall processes as may be available as part of your mobile device or via the mobile application marketplace or network.
Data portability: If you wish to transfer provided data to another controller, we will provide the data in an electronically transferable format.

Right of appeal to the Data Protection Authority: We also remind you of your right of appeal to the Data Protection Authority. You have the right to complain to a supervisory authority, in particular in the Member State of your place of residence, your place of work or the place of the alleged infringement, if the data subject considers that the processing of the personal data is in breach of this Regulation. You may also contact us directly at any time.
To exercise these rights, please use the contact information under point 1. Please note that we may request submission of documents and/or information to verify your identity when treating your request. We do so in order to make sure that your personal data is never disclosed to a third party not entitled to receive your personal data.
Modification of this privacy policy
Changes
We may revise this privacy policy from time to time as appropriate. The use of your data is subject to the latest version, which can be accessed under http://worldaroundmeapp.com/legal/privacy/. We will post changes to this privacy policy via http://worldaroundmeapp.com/legal/privacy/, as part of our business relationship with you, via link on WAM and our website. We will keep prior versions of this Privacy Policy in an archive for your reference.
We will notify you of any changes to our Privacy Policy by posting the new Privacy Policy here .  You are advised to consult this Privacy Policy regularly for any changes, as continued use is deemed approval of all changes. This privacy policy operates in conjunction with your acceptance of the Term and Conditions of this app as mentioned here.
Your Consent
By using the Site  https://worldaroundmeapp.com/, you are consenting to our processing of your information as set forth in this Privacy Policy now and as amended by us. "Processing," means using cookies on a computer/hand held device or using or touching information in any way, including, but not limited to, collecting, storing, deleting, using, combining and disclosing information. We use an analytics system which collects information about the user activity on our site like screens viewed and items clicked – this helps us improve our website to better serve. We do not serve ads on our website.
Definitions and legal references
USER PROVIDED DATA (OR DATA)
Any information regarding a natural person, a legal person, an institution or an association, which is, or can be, identified, even indirectly, by reference to any other information, including a personal identification number.
USAGE DATA
Information collected automatically from this Application (or third party services employed in this Application ), which can include: the IP addresses or domain names of the computers utilized by the Users who use this Application, the URI addresses (Uniform Resource Identifier), the time of the request, the method utilized to submit the request to the server, the size of the file received in response, the numerical code indicating the status of the server's answer (successful outcome, error, etc.), the country of origin, the features of the browser and the operating system utilized by the User, the various time details per visit (e.g., the time spent on each page within the Application) and the details about the path followed within the Application with special reference to the sequence of pages visited, and other parameters about the device operating system and/or the User's IT environment.
USER
The individual using this Application, which must coincide with or be authorized by the Data Subject, to whom the Personal Data refer.
DATA SUBJECT
The legal or natural person to whom the Personal Data refers to.
DATA PROCESSOR
The natural person, legal person, public administration or any other body, association or organization authorized by the Data Controller to process the Personal Data in compliance with this privacy policy.
DATA CONTROLLER (OR APPLICATION OWNER, OR OWNER)
The natural person, legal person, public administration or any other body, association or organization with the right, also jointly with another Data Controller, to make decisions regarding the purposes, and the methods of processing of Personal Data and the means used, including the security measures concerning the operation and use of this Application. The Data Controller, unless otherwise specified, is the Owner of this Application.
THIS APPLICATION
The hardware or software tool by which the User Personal Data is collected.
COOKIE
Small piece of data stored in the User's device.
Legal information
Notice to European Users: this privacy statement has been prepared in fulfillment of the obligations under Art. 10 of EC Directive n. 95/46/EC, and under the provisions of Directive 2002/58/EC, as revised by Directive 2009/136/EC, on the subject of Cookies.
This privacy policy relates solely to this Application.
Valid from: 25th May 2018 WT Infotech 2018-05-19
Last Updated: 24th May 2018.